Ask about our Trenchless Technology Service
We Specialize in Trenchless Technology for Underground Sewer Service Line Replacements, Installations, and Repairs in Prince William County Virginia. Sewer Line and Plumbing service are provided for residents of Prince William County VA including Manassas, Dumfries, Gainesville, Haymarket, Dale City, Nokesville, Occoquan, Woodbridge, and Lake Ridge VA
Welcome to Interstate Enterprises Plumbing Services, your local contractor specializing in residential sewer line and water line repair throughout Northern Virginia.
Be sure to ask about our new "trenchless technology" which allows us to fix or replace sewer lines without destroying landscaping! Interstate Enterprises, Inc. uses method of sewer line installation whenever possible and often saves our customers the time, energy and money required to fix their landscape following a sewer line leak or failure.
When a backed up sewer line occurs, a rapid response can prevent thousands of dollars worth of damage to your yard, land-scaping, driveway and home. Interstate specializes in sewer and water line repair and is both licensed and insured. We specialize in quickly and efficiently repairing and/or replacing under ground sewer and water lines. Our professionals will quickly and efficiently identify your sewer blockage's (or break's) location, then repair the line with state-of-the art technology.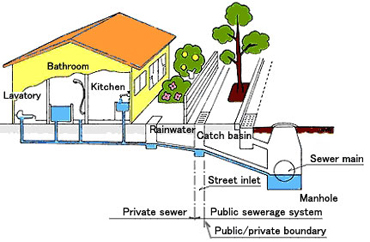 Interstate - look to us for quick,
quality sewer line replacement or repair!
What Causes Sewer Problems?
Sewer drain pipes can create major problems for a property owner. Sewers typically leak or back up due to:
Aging Pipes
Calcification
Root Intrusion
Soil Shifting
Orangeburg Pipe Deterioration
What should you do if you perceive a possible problem?
Contact a sewer/water line specialist ASAP. Ignoring a potential sewer or water break may result in extensive and expensive damage to your yard, landscaping, driveway and home or business. Raw sewage exposure can result in harmful bacteria and mold growth. Contact Interstate's 24 Hour Emergency Line at 703-250-8830.